Samanta is a well-respected teacher who has been dedicated to mind-body health for over 20 years. With a lifetime spent practicing Yoga, Jazz Technique and Bharatnatyam, she is able to combine unique perspectives about wellbeing, healing and physiology. Samanta's work centers on Hatha Yoga, Vinyasa Yoga, Ayurvedic and Thai Yoga Therapies, Diet /Nutrition and Vedic Chanting. In July 2008, she partnered with Shaleen Parekh to open India's first boutique yoga studio, Yoga Sutra. (www.yogasutra.co.in)
Samanta's personal journey began when as a teenager, she became a performer with noted choreographer Shiamak Davar. After 15 years as a lead performer, she transitioned into practicing and teaching yoga in the year 2000. Samanta was the Wellness programme director with Swaswara – an eco holistic, yoga ayurveda  retreat from Oct 2011- March 2012 where she trained yoga teachers for 6 months and helped in defining the yoga  and detox  programmes on offer. Over the last ten years she has explored and mastered several healing therapies for the mind and body.
Samanta blends a wealth of knowledge and experience to create a unique approach that unites awareness with movement, breath, heart, and humour. She teaches workshops and retreats around the world.
Credentials

Yoga 
Samanta is an Advanced Teacher of the Sivananda Yoga tradition. She trained at the world-renowned Sivananda Yoga Vedanta Forest Academy at Neyyar Dam, Kerala, and is also certified in Yoga Therapy by the Yoga Vidhya Dham, Nasik. Samanta is a certified Yoga instructor for children. (http://www.sivananda.org/)
Pranayama and Dhyan (Breath work and Meditation)
Samanta teaches the Advanced Pranayama, Meditation and Yogic Techniques she studied at the Pranava Yoga Dhamma School of Yoga, Mysore. (http://www.mysoreyoga.org)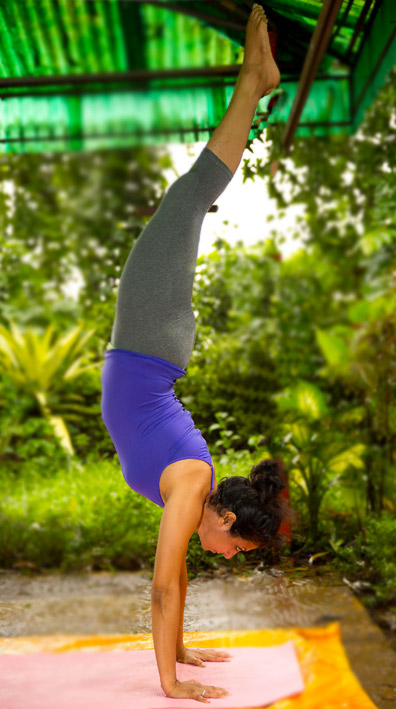 Body Therapies
Samanta is adept in Advanced Thai Body Work techniques, and has been practicing for 8 years. She learned Abdominal Chi at the Blue Garden (http://wwww.thaimassagechiangmai.com) and trained in Cranio Sacral techniques at ICSB with Rosemary Wallace. Samanta is certified in Harmonics and Joint Manipulation, as well as in Assessment and Treatment of Movement Dysfunction through The Sunshine Massage School.
Samanta is also a practitioner of Foot Reflexology, certified in Wat Po, Thailand. She practices Ayurvedic and Panchakarma Therapy that she studied at the School of Ayurveda and Panchakarma, Kerala. She also trained here in Ayurvedic Pregnancy Care and Baby Care.  (http://www.ayurvedaschool.in/)
Vedic Chanting
Samanta studied the ancient art of Vedic Chanting at the Krishanamacharya Yoga Mandiram, Chennai, in 2007. She is currently pursuing an advanced course.
(http://www.kym.org/)
Diet and Nutrition
Samanta specializes in diet and nutrition. She was certified by BFY Sports and Fitness in May 2010. (http://www.bfysportsnfitness.com/)